Uniform Standards and Requirements
And since nobody knows about the site yet, I'll fill this page with pictures of me!!!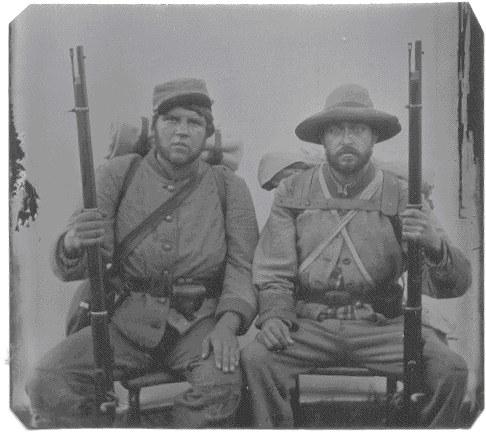 Seriously, this is where I'll talk about what constitutes the uniform (Shell Jacket, Trousers, Blah Blah Blah...)

Once I get the time I'd like to put up pictures of each and give the explanation under each picture...

It'll go something like:

We limit ourselves to portraying, as close as we can, the impression of the average soldier in the Western Theater's Army of Tennessee on it's Mid-war campaigns. A brief overview of our uniforms and equipment is as follows:

Starting from the top:

A. Kepi/ Slouch Hat

A beehive style slouch hat or a kepi are acceptable. Recommended vendors are "Dirty Billy" and Greg Starbuck.

B. Shell Jacket

Columbus Depot Type I or II
Atlanta Depot Shell Jacket.

Recommended vendors are County Cloth, Chas. Cantrell, and Tart, Brantley & Benjamin.

C. Trousers

"Western" Depot Trousers.
NO YANKEE PANTS!

Trousers should be of a jean-cloth material and they should have side-seam or mule-ear pockets. Again, recommended suppliers are County Cloth, Chas. Cantrell, and Tart, Brantley & Benjamin.


BLAH BLAH BLAH.... MORE ABOUT ALL THE OTHER STUFF...



PERSONAL APPEARANCE


All should do everything in their power to take on the appearance of Confederate soldiers in the field.




So that's that. I'll more than likely go to the recruit guide to get the exact wording for this section, but for now I took it from the Lincoln Killers site just to give an idea of what'll be on this page...